AFRICAN AMERICANS IN THE LIFE OF SAMUEL CLEMENS
Samuel Clemens influenced and was influenced by many African Americans in profound ways. A few of their stories are here, including his famous quote, "We have ground the manhood out of them, & the shame is ours, not theirs, & we should pay for it".
Tom Wiggins
Tom Wiggins was born a slave on the plantation of Wiley Edward Jones in Harris County, Georgia but became one of the nineteenth-century's great piano virtuosos. Blind and autistic, Wiggins's disabilities left him unable to communicate his most basic needs, no less perform typical slave labor, so he was allowed a greater degree of freedom to occupy himself otherwise. By four, Wiggins has acquired basic piano skills by ear, and by five, he had composed his first song. At age eight, Wiggins was hired out to Perry Oliver, a concert promoter who forced Wiggins to play up to four concerts a day. Wiggins's autism left him unable to communicate beyond grunts and gestures, but he had an impressive ability to repeat anything he heard, usually upon first hearing. It was estimated that he learned 7,000 pieces of music in his lifetime.
In her The Ballad of Blind Tom, author Dierde O'Connell notes Tom's more immediate influence on Clemens:

In January 1868, Mark Twain boarded a train from Galena to Chicago and for the first time, laid eyes on Blind Tom who was howling and whooping along to the hiss and rattle of the locomotive. Read Twain's wonderful account of his bizarre journey with Tom.
Clemens, known for being fond of African American spirituals, eagerly attended Wiggins's concerts whenever he had opportunity.
---
In 1860, President James Buchanan made Wiggins the first African-American to give a major performance at the White House.

Above: mini-doc by "Into the Music," a program of the ABC Radio National. Used with permission. Find the full program here.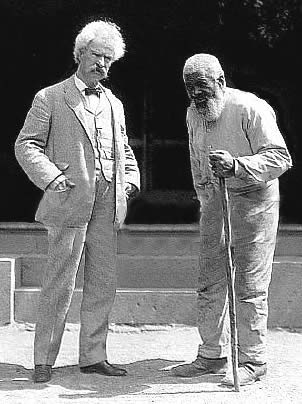 John T. Lewis
John T. Lewis, a free man born in 1835 in Carroll County, Maryland, met Clemens while working as coachman for Clemens's in-laws, the Langdons. In 1877, Lewis and Clemens cultivated a strong friendship that lasted the remainder of their lifetimes. Showing one of the above photographs to a friend, Clemens explained, "The colored man. . . is John T. Lewis, a friend of mine. These many years - thirty-four in fact. He was my father-in-law's coachman forty years ago; was many years a farmer of Quarry Farm, and is still my neighbor. I have not known an honester man nor a more respect-worthy one. Twenty-seven years ago, by the prompt and intelligent exercise of his courage, presence of mind and extraordinary strength, he saved the lives of three relatives of mine, whom a runaway horse was hurrying to destruction. Naturally I hold him in high and grateful regard."
Mary Ann Cord
Mary Ann Cord served as cook for Samuel Clemens's sister-in-law, Susan Crane, and her husband, Theodore Crane, in Elmira, New York. Born a slave, Cord suffered through the loss of a husband and seven children when they were sold in 1852. Thirteen years later, the family miraculously reunited when her youngest son, Henry, a soldier in the Union army, found Cord and brought her back to Elmira, where he worked as a barber. Mark Twain recorded Cord's experience in "A True Story, Repeated Word for Word as I Heard It" (1874). Her narration of her life story helped Clemens understand the horrors of slavery. Click on her photo to the left to find Twain's story hosted at PBS.
Clemens' Hartford home, where the Mark Twain Memorial is currently restoring Griffin's third floor room.
George Griffin
George Griffin, born a slave in Maryland, came to work for the Clemens family in 1874. Griffin grew close to the Clemens family after eighteen years as the butler in their household. Some historians claim he might have been a source of inspiration for Jim in the Adventures of Huckleberry Finn. Samuel Clemens described Griffin as "...handsome, well built, shrewd, wise, polite, always good-natured, cheerful to gaiety, honest, religious, a cautious truth-speaker, devoted friend to the family, champion of its interests."
In 1994, the Mark Twain Memorial, located in Clemens family's Hartford home, received more than $200,000 in gifts and grants to restore Griffin's third floor room in the house as part of an effort to explore African American history in the Hartford community as well as Twain's connection to that community.
Charles Ethan Porter
Little is known of Charles Ethan Porter other than that he was born in 1847 and died in 1923. Historians suggest that he was born in Hartford or East Hartford, Connecticut. He seems never to have married, had children, or formed strong ties with the black community. Instead, he lived a life wholly dedicated to his art. He died a pauper who spent his later years selling his pictures door-to-door, often trading a picture for a meal.
Though Porter enjoyed a burst of success in the 1870s and early 1880s, we would likely know nothing about him had he not received patronage from Mark Twain. Twain likely first heard of Porter after the Hartford Daily Times published an article about him, entitled "A New Painter A Colored Man," in its December 18, 1877 issue.
A year later, with a successful career before him, Porter declared his intentions to study art in Europe. On November 7, 1881, Twain wrote Porter a letter of introduction to Karl Gerhardt, a friend and sculptor living in Paris, it helped Porter gain access to exclusive artists' circles in Paris.
The relationship between Porter and Twain remained on the level of patron and artist, never friends.
References:
Riggio, Thomas P. "Charles Ethan Porter and Mark Twain." Charles Ethan Porter. Marlborough: Connecticut Gallery, 1987. 76-87.
Still Life: Two Baskets of Strawberries, Charles Porter, 1900, Oil on canvas, Tradition Redefined: The Larry and Brenda Thompson Collection of African American Art, Pg 77
Warner T. McGuinn
Samuel Clemens played a major role the outcome of Brown vs. Board of Education - in 1954, four decades after his death!
Warner T. McGuinn, a graduate of Yale Law School, major civil rights lawyer, and successful politician is most celebrated for mentoring Thurgood Marshall, the first African American Supreme Court Justice and the lead attorney for the Brown v. Board of Education case. Until 1985, however, the connection between McGuinn and Samuel Clemens was not widely known, and there was no hard evidence for it from Twain himself. That year, Dr. Shelley Fisher Fishkin, Professor of English at Stanford and Twain specialist, discovered and verified a letter written by Clemens to the dean of the Yale law school which stated his interest in supporting McGuinn, whom he had recently met on a visit to Yale as a speaker.
Born in Goochland County, Virginia in 1859, McGuinn attended public schools there, eventually earning his bachelor's degree from Philadelphia-based Lincoln University in 1884. To support himself through law school, he checked hats at a casino in Newport, Rhode Island. After a brief stint reading law with Richard T. Greener, the first black graduate of Harvard, McGuinn was accepted to Yale. He continued to work to support himself as a full-time student, including, waiting tables to pay his tuition.
In New Haven, McGuinn met and was befriended by Samuel Clemens, by then better known as renowned author Mark Twain. Upon hearing that McGuinn was financing his way through law school entirely by his own efforts, Twain wrote a now famous letter to Francis Wayland, Dean of Yale Law School, requesting a character reference for McGuinn and offering financial support for his schooling. The letter reads as follows:
"December 24, 1885

Dear Sir,

Do you know him? And is he worthy? I do not believe I would very cheerfully help a white student who would ask a benevolence of a stranger, but I do not feel so about the other color. We have ground the manhood out of them, & the shame is ours, not theirs, & we should pay for it.

If this young man lives as economically as it is & should be the pride of one to do who is straitened, I would like to know what the cost is, so that I may send 6, 12, or 24 months' board, as the size of the bill may determine.

You see he refers to you, or I would not venture to intrude.

Truly yours,

S.L. Clemens"
By virtue of his own hard work, and with financial support from Twain, McGuinn received his law degree in 1887, having received the distinction of serving as President of the Kent Club and winning a prize for oratory. The same year, he moved to Kansas City, Kansas to begin practicing law. He relocated to Baltimore in 1891, where he became a partner at the law firm of Cummings and McGuinn and was eventually elected to the city council.
Like his benefactor, Samuel Clemens, McGuinn championed equal rights for women as well as African Americans. He supported efforts for women's suffrage, equating this gender struggle with the black struggle for civil rights. In 1917, McGuinn won the "Baltimore Segregation Case," which led to the prohibition of further segregation of blacks into specified areas of the city (modern day redlining). When McGuinn died in 1937, the Baltimore Sun wrote of him, "No member [of the city council] had been more effective or more earnest in endeavoring to promote public welfare." Clemens' contribution to McGuinn's studies proved to be an investment in a line of distinguished African American civil rights leaders. Through McGuinn's legacy, Twain influenced the outcome of the Brown v. Board of Education.
References:
Haven, Cynthia. ""A chill went through me": How a Twain scholar discovered a long-lost letter on racism." The Book Haven. Stanford University. http://bookhaven.stanford.edu/tag/warner-t-mcguinn/
Rasmussen, Frederick N. "A Little Help From Twain." The Baltimore Sun. February 17 2001. http://articles.baltimoresun.com/2001-02-17/features/0102170018_1_mcguinn-twain-law-school
McDowell, Edwin. "From Twain: A Letter on Debt to Blacks." The New York Times. March 14 1985. http://www.nytimes.com/1985/03/14/books/from-twain-a-letter-on-debt-to-blacks.html
Philip Butcher, "Mark Twain's Installment on the National Debt." Southern Literary Journal. Vol. 1, No. 2, Spring 1969.